Expertise, Experience, and Vision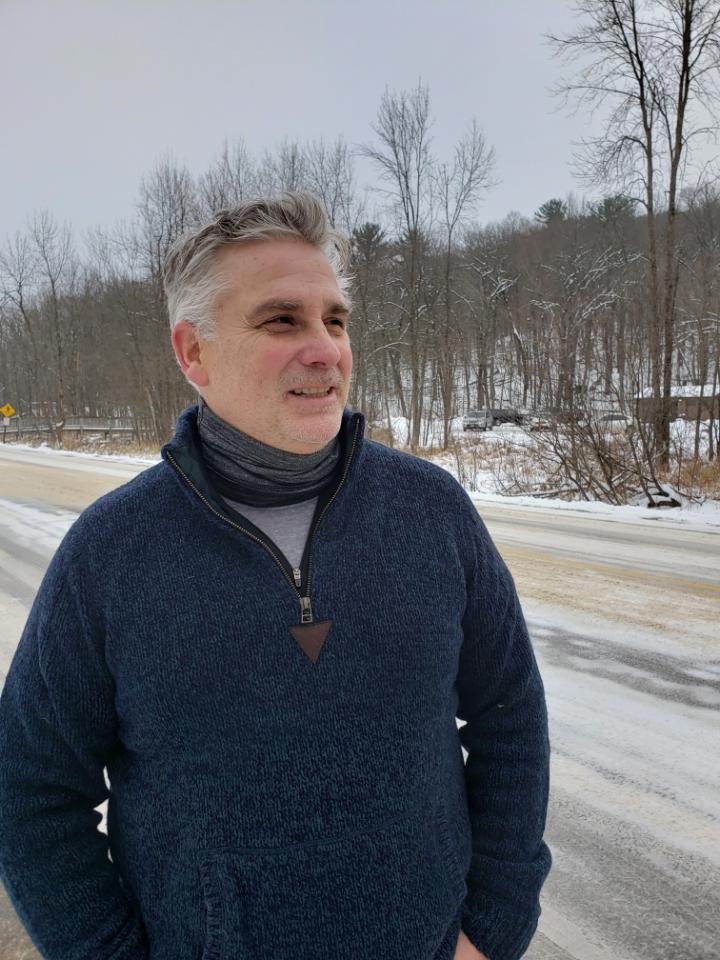 Mike Friis
President
Mike Friis with the Department of Administration, directs the agency's Resource Policy Team that includes the Wisconsin WI Coastal Management, Land Information and Comprehensive Planning Programs.
He is a past-Chair of the Coastal States Organization (representing the nation's Coastal States, Territories, and Commonwealths on ocean, coastal, and Great Lakes resource issues), member of the NOAA's Digital Coast Partnership and NOAA's Great Lakes Regional Team, WI DOT's Harbors Advisory Committee, the Lake Superior National Estuary Research Reserve Advisory Board, and the UW Sea Grant Institute's Advisory Council.
Current co-chair of the Conference of Great Lakes, St Lawrence's Governors and Premiers' Regional Maritime Initiative, and Executive Committee member of the National Working Waterfronts Network. He is a member of various workgroups as part of the Wisconsin Initiative on Climate Change Impact.
In his time with the Wisconsin Coastal Management Program Mike has overseen the federal approval of the state's Coastal Nonpoint Pollution Control Program, the establishment of the Lake Superior National Estuary Research Reserve and now the effort for the designation of a National Marine Sanctuary with Wisconsin's Lake Michigan waters.
Served with his wife Diane in Bolivia as Peace Corps Volunteers with Plan International doing soil conservation, reforestation, nutrition, and environmental education in Andean communities.
Graduate of UW-Madison, degree in Landscape Architecture.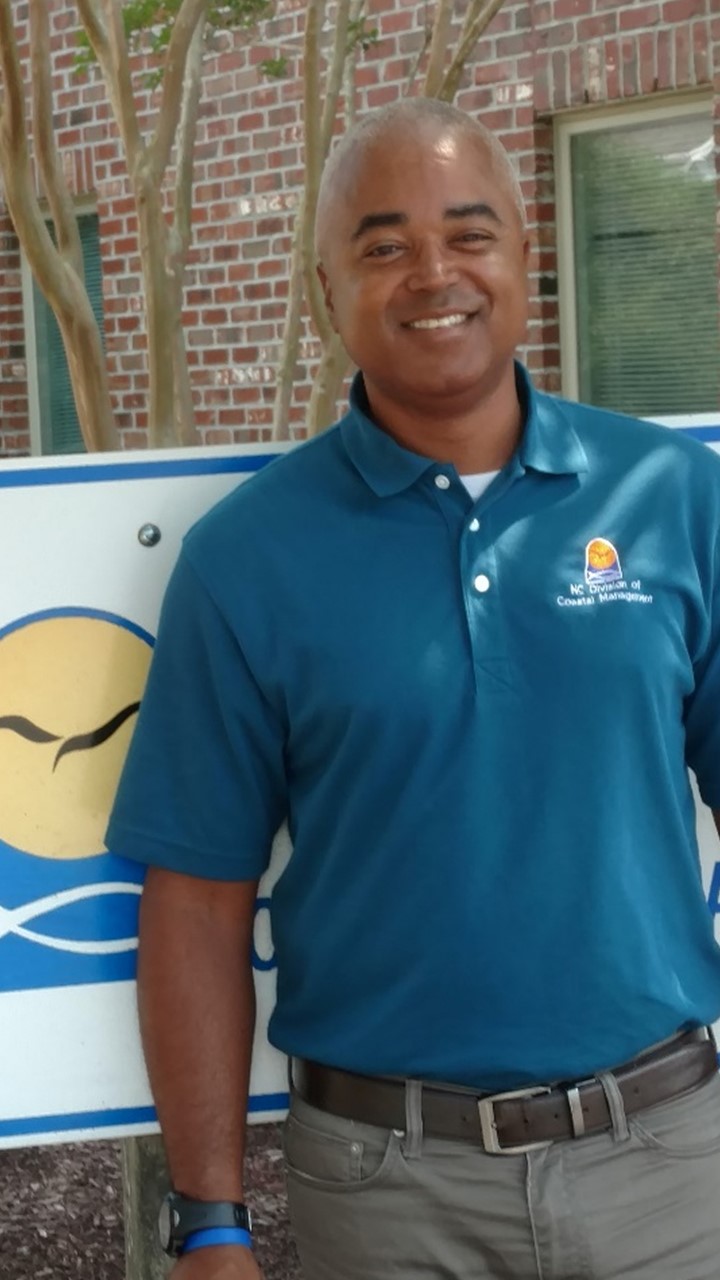 Tancred Miller
Vice-President
Tancred Miller is the Policy & Planning Section Chief for the Division of Coastal Management, and the division's lead on resilience and adaptation. Tancred leads the division's work building local government capacity for climate hazards resilience, and coordinates the state's Sea Level Rise Assessment Reports. I
In 2020, he lead a team that created the NC Resilient Coastal Communities Program, which provides funds to local governments for resilience planning and implementation. He manages the land use planning program, which provides direction and support to local governments, as well as grant funding for beach and waterfront access. He also manages the division's rule and policy development functions, bringing scientists and stakeholders together with the NC Coastal Resources Commission to continuously improve regulations for coastal development.
He sits on Governor Cooper's Climate Change Interagency Council, which was created to fulfill the Governor's Executive Order 80 directives. He sits on the advisory committees of the National Academies' Climate Communications Initiative, which seeks to better leverage the Academies' work in support of decision making. He holds a Bachelor's degree in Business Administration from Morehouse College in Atlanta, and a Masters in Coastal Environmental Management from Duke University. Tancred joined the Division of Coastal Management in 2003.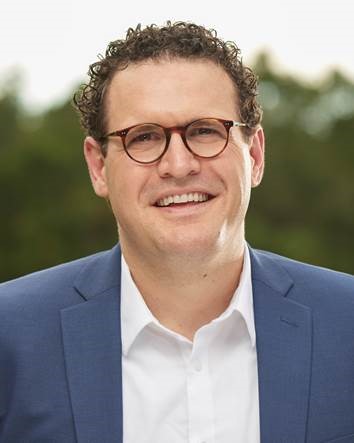 Ryan Orgera
Treasurer
Dr. Ryan Orgera is a conservationist with broad experience in global and local conservation. As a geographer, a social scientist, he is especially interested in the role of nature in society and how culture influences how we protect the planet. Ryan holds a bachelor's and master's degree in Romance Languages and Literatures from the University of South Florida and a Ph.D. in Geography and Environmental Sciences from Louisiana State University. Before becoming an environmentalist, Ryan taught French and Italian at the university level for eight years.
Ryan is currently the CEO of the Sanibel-Captiva Conservation Foundation, a science-based organization that spans education, research, and land acquisition. As part of the Ending Illegal Fishing Project and Global Shark Conservation teams with The Pew Charitable Trusts Ryan traveled extensively to institute meaningful conservation measures within various United Nations conventions, most notably the Convention on International Trade in Endangered Species of Wild Fauna and Flora. During his time with Pew, Ryan helped ensure global protections for thirteen species of sharks and rays.
As a Knauss Marine Policy fellow in the Office of U.S. Senator Bill Nelson, Ryan served as the senator's ocean, coastal, and flood insurance policy expert. Ryan also served as a member of the Federal Marine Protected Area Advisory Committee, which advises the U.S. Secretaries of Commerce and Interior.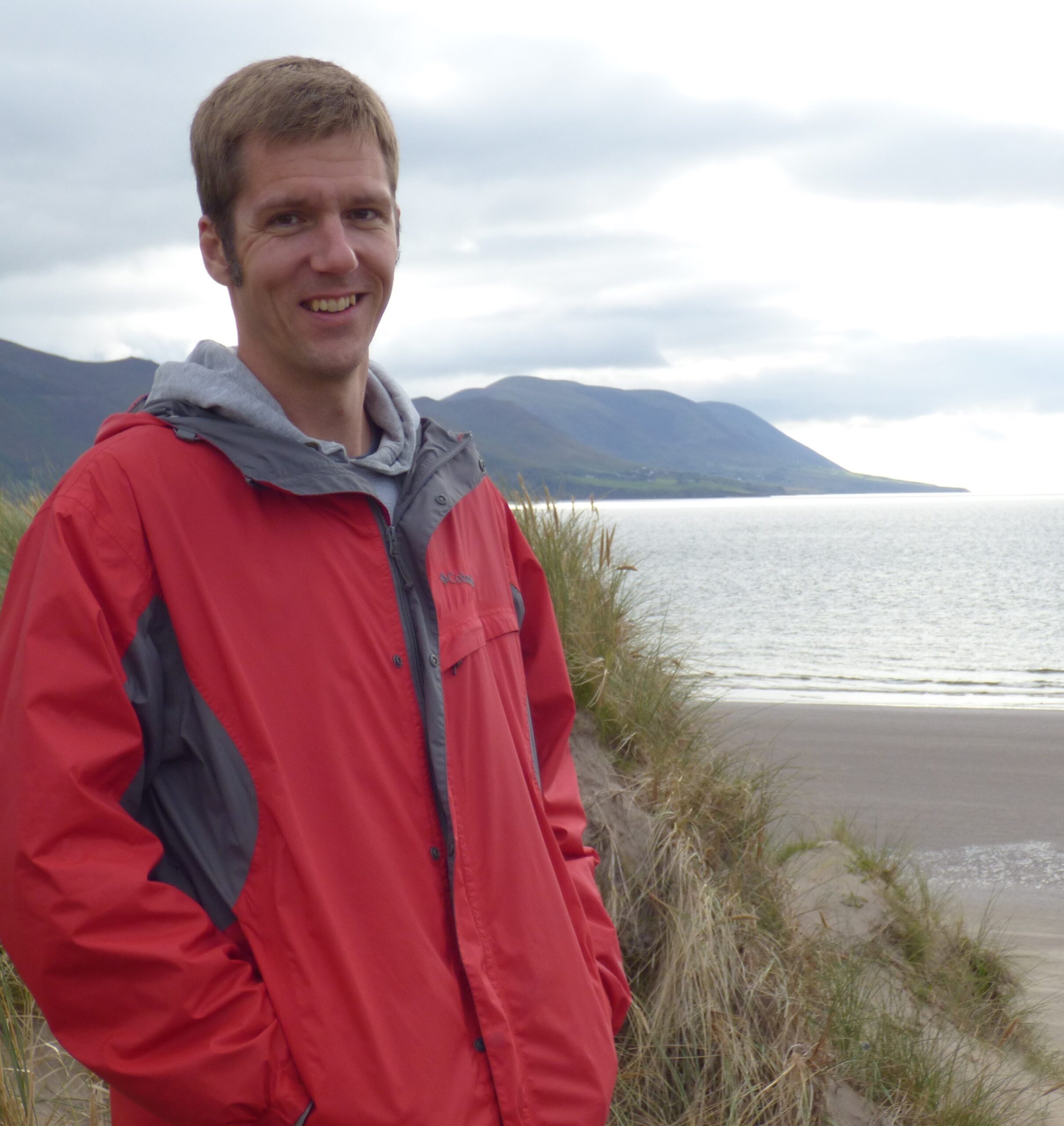 Derek Brockbank
Secretary
Derek Brockbank is Executive Director of Coastal States Organization (CSO), which represents the nation's Coastal States, Territories, and Commonwealths on ocean, coastal, and Great Lakes issues. With two decades of experience in Washington DC on coastal adaptation policy and organizational development, Derek is connecting state coastal management programs with federal agencies and resources in order to address the greatest coastal challenges facing society.
Derek previously served as executive director for the American Shore & Beach Preservation Association (ASBPA) where he led the strategic planning and outreach, government affairs, and development goals of the nation's leading organization advocating for beach and coastal restoration.
Prior to starting with ASBPA, Derek worked as campaign director for a coalition effort to restore the Mississippi River Delta and Coastal Louisiana, and was part of a gulf-wide campaign to pass the RESTORE Act, securing billions of dollars for Gulf Coast restoration. This followed up on his work with National Wildlife Federation on climate adaption.
Derek grew up in New York City and got his coastal education from an early age playing on the beaches of Long Island, and kayaking and fishing in Peconic Bay.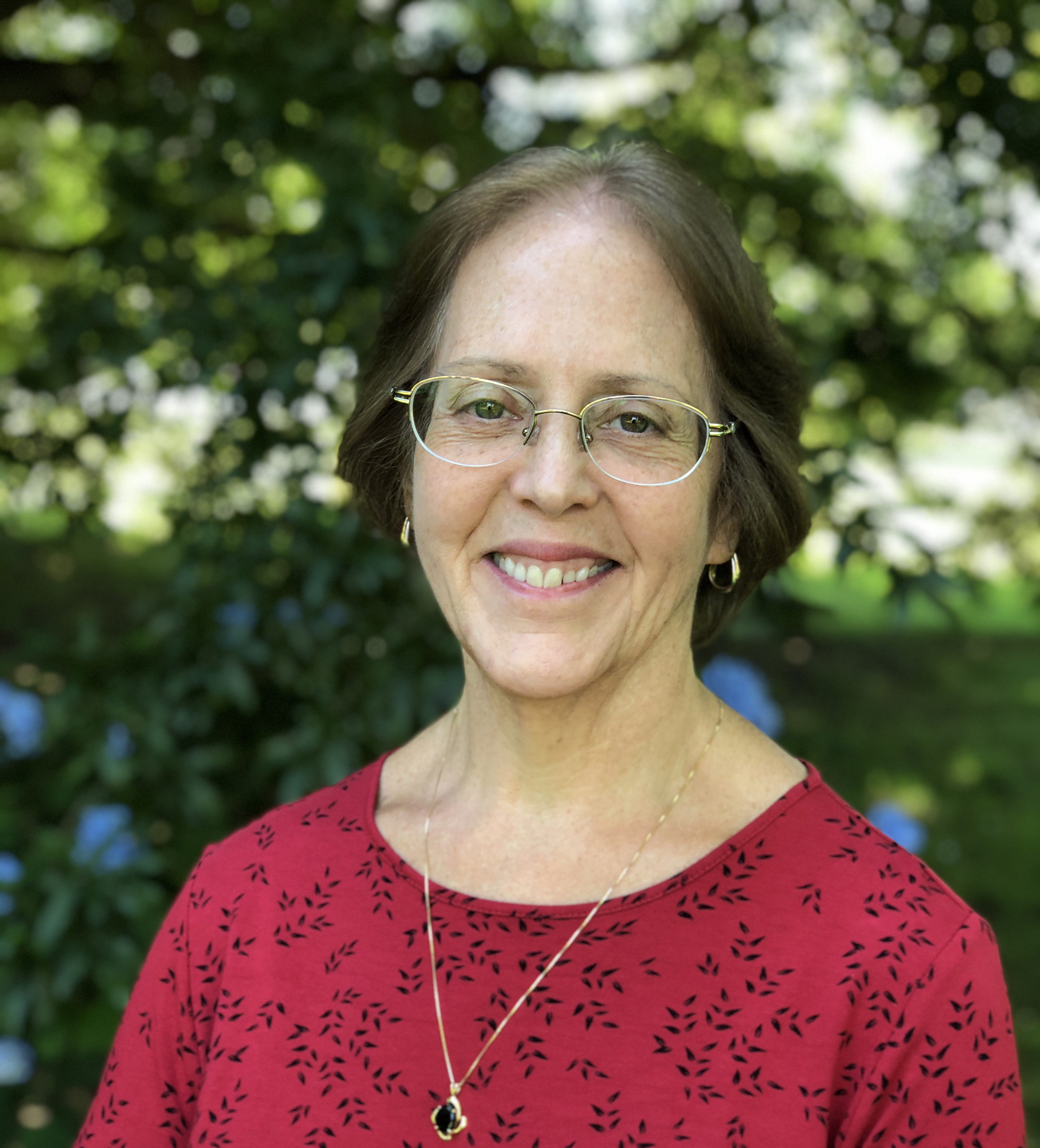 Gwynne Schultz
Director
Gwynne Schultz has more than 30 years of experience in coastal and ocean resource management and policy issues.  During her tenure with the Maryland Department of Natural Resources, Gwynne led Maryland's efforts to establish the multi-state Mid-Atlantic Regional Council on the Ocean (MARCO) and served as a founding Management Board member and past chair. She was also the State Co-lead on the Mid-Atlantic Regional Planning Body (RPB) during the development of the Mid-Atlantic Ocean Action Plan.  The RPB was honored as a recipient of the 2017 Peter Benchley Ocean Award for "Excellence in Solutions."
Gwynne previously directed the Maryland Coastal Program, the State's Nonpoint Source Pollution Control Programs, the Maryland Coastal Bays National Estuary Program, and the Chesapeake Bay National Estuarine Research Reserve-Maryland Program.
For over two decades Gwynne represented the Governors of Maryland on the national Coastal States Organization (CSO) serving on the Executive Committee representing the Mid-Atlantic region and chaired CSO's Coastal Zone Management Act Reauthorization and Water Quality Committees.  Gwynne also served as the Maryland representative on the Department of Interior Outer Continental Shelf Policy Committee, was a member of the Bureau of Ocean Energy Management-Maryland Renewable Energy Task Force, and served on the Environmental Protection Agency's Coastal Elevations and Sea Level Rise Federal Advisory Committee.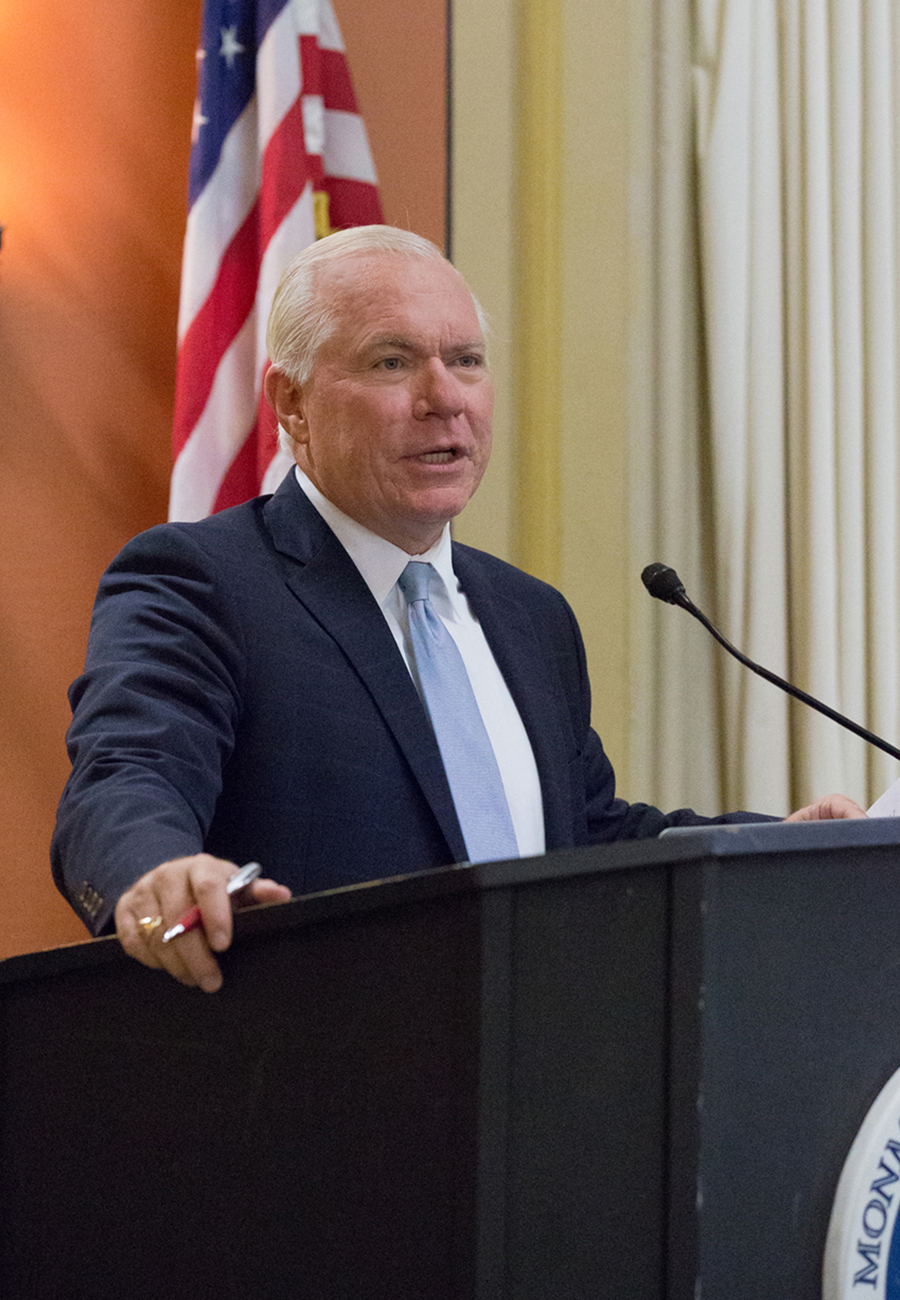 Tony McDonald
Director
Tony MacDonald is currently the Director of the Urban Coast Institute (UCI) at Monmouth University in West Long Branch, New Jersey. The UCI was established in September 2005 to serve the public interest as a forum for research, education and collaboration that fosters healthy and productive coastal ecosystems and sustainable coastal communities.
Mr. MacDonald was previously the Executive Director of the Coastal States Organization (CSO) based in Washington, DC, which represents the interests of the Governors of the United States' 35 coastal states and territories on coastal and ocean policy matters. Prior to joining CSO, Mr. MacDonald was the Special Counsel and Director of Environmental Affairs at the American Association of Port Authorities.
Tony has also practiced law with a private firm in Washington, DC, and served as the Washington, DC environmental legislative representative for the Mayor of the City of New York and Assistant Corporation Counsel at the New York City Law Department.
Mr. MacDonald is a graduate of Middlebury College in Vermont and the Fordham University School of Law in New York City.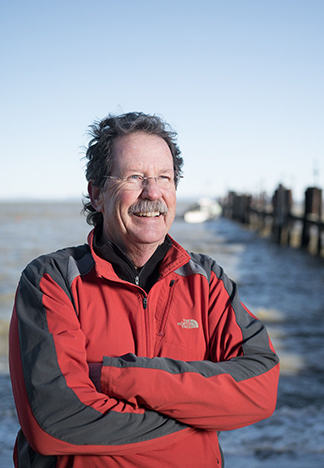 Brian Baird
Director
Brian Baird is an Ocean and Coastal Policy Advisor. Currently he chairs the Marine Protected Areas Federal Advisory Committee and serves as President of the Coastal States Stewardship Foundation. He previously directed the Ocean and Coastal Program at The Bay Institute (TBI) in San Francisco and served for 18 years as the Assistant Secretary for Ocean and Coastal Policy under California Governors Wilson, Davis, Schwarzenegger, and Brown.
Brian was the chief writer of California Governor Pete Wilson's 1997 ocean management strategy and for California Governor Arnold Schwarzenegger's 2004 ocean action plan. He helped create and staff the West Coast Governors' Alliance (now West Coast Ocean Partnership), advised the California Ocean Protection Council, and served on the California Coastal Commission and other state and national boards, commissions, and ocean advisory committees.
In 2007 to 2008 Brian chaired the national Coastal States Organization. He was later appointed by the White House to serve as an advisor to the National Ocean Council after nomination by the Governors of California, Oregon, and Washington. He created the international conference – California and the World Ocean – held in 1997, 2002, 2006, and 2010. Brian received formal recognition of his ocean protection work from the California State Legislature and the California Congressional Delegation in 2011.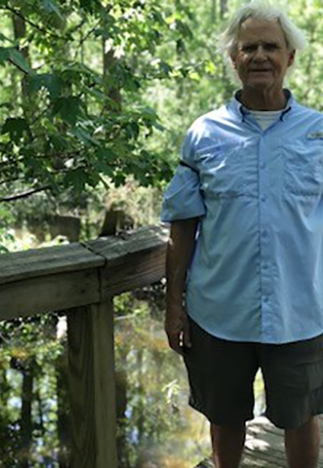 Terry Howey
Director
Dr. Terry Howey is a marine scientist with nearly 50 years of professional experience in marine biology, coastal ecology and wetlands policy and regulation. He earned both a bachelor's and master's degree in marine biology from California State University at Long Beach and a doctorate in zoology and marine science from Louisiana State University.
Dr. Howey's lengthy career in marine science includes experience teaching and conducting research at the college and university level; research as an aquatic biologist for the U.S. EPA; as a scientist with a large consulting company; and administering a state coastal management program. In the latter capacity he served with the Louisiana Office of Coastal Management for 28 years, administering the program for 19 years of that period. Dr. Howey represented the state of Louisiana in the Coastal States Organization for 24 years, 9 of those as an officer and member of the executive committee.
He participated in the establishment of the Coastal States Stewardship Foundation and has served on its board since its founding. Dr. Howey retired from state service in 2012 and now works part time as a consulting expert and expert witness in legal matters related to energy production, wetlands restoration, and state and federal wetlands regulations. He now divides his time between homes in Seal Beach, California and Baton Rouge, Louisiana with his wife, author and poet Dr. Cynthia Levy.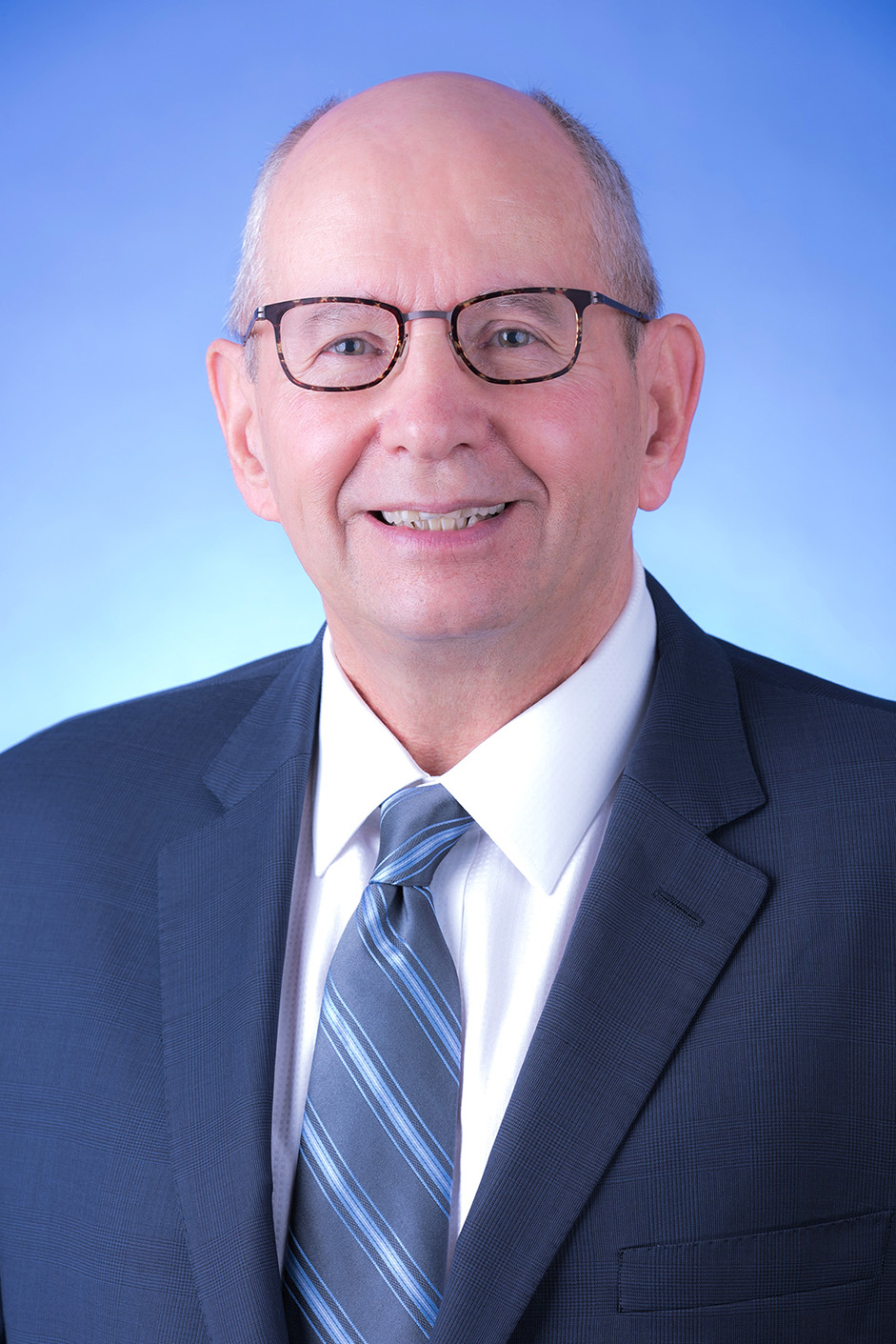 Jim Murley
Director
James F. Murley was appointed Chief Resilience Officer for Miami-Dade County by Mayor Carlos Gimenez in November 2015. Miami-Dade County, in partnership with the Cities of Miami Beach and Miami, joined the international 100 Resilient Cities network in May 2016. Jim previously served as Secretary of the Department of Community Affairs under Governor Lawton Chiles and was appointed Chair of the Florida Energy and Climate Commission by Governor Charlie Christ. Additionally, he served as Executive Director of 1000 Friends of Florida, spent over 10 years with Florida Atlantic University overseeing research on urban and environmental issues, and served as Executive Director of the South Florida Regional Planning Council. Jim is a founding member of the American Society for Adaptation Professionals and Resiliency Florida, a Board member of The Florida Ocean Alliance and the Southeast Coastal Ocean Observing Regional Association, and a member of the City of Miami Sea Level Rise Committee. He is also a Fellow of the National Academy of Public Administration.
Jessie Ritter
Director
Jessie Ritter is the Director of Water Resources and Coastal Policy for the National Wildlife Federation. In this role, Jessie leads the development and execution of NWF's national water resources and coastal policy priorities. She oversees federal campaigns to protect clean water and wetlands and increase the resilience of communities and wildlife in the face of climate change and natural disaster events. Jessie also works to coordinate and steer NWF's federal advocacy work to restore the Gulf of Mexico region, including the Everglades and the Mississippi River Delta.
Ritter came to the National Wildlife Federation from the U.S. Senate Commerce Committee, where she covered the oceans and atmosphere portfolio as a NOAA Sea Grant Fellow under the leadership of Senators Rockefeller and Nelson. She has also worked for a number of national non-profits on federal and state policy issues ranging from fisheries management to water resources to coastal community resilience. She holds a Master of Environmental Management degree from Duke University's Nicholas School, and a B.S. in Zoology from North Carolina State University.
Fran Castro
Director
Fran Castro is the Associate Director for the University of Guam Sea Grant program. She has been with the program since 2018 and brings a wealth of experience in coastal and environmental management. She is working to bring the Guam Sea Grant program up to institutional level status which will provide more resources for the program to address their focus of healthy coastal ecosystems and environmental literacy and workforce development.  Fran currently co-chairs the committee on Thriving Natural Resources on the Guam Green Growth initiative which aligns with the U.N. Sustainable Development Goals to cultivate an ecosystem for transformative action to achieve a more sustainable, prosperous, and equitable future for Guam.
Prior to relocating to Guam, Fran was the Director for the Coastal Management Resources program in the Commonwealth of the Northern Mariana Islands (CNMI), and a program manager with the Division of Environmental Quality's nonpoint source pollution and marine monitoring program.  In her time in CNMI, Fran represented four CNMI Governors in the United States Coral Reef Task Force, Pacific Regional Planning Body, Pacific Regional Ocean Partnership, the Micronesia Challenge, and the Coastal States Organization.  While at CRM, she supervised and provided mentorship to 34 employees which included managers, biologists, and planners.   In 2005, she co-founded the Mariana Islands Nature Alliance (MINA), a conservation nonprofit organization to educate and engage the community in environment and conservation practices.  Her skills include environmental management, project management, coastal and environmental policies and regulation, permitting and regulatory compliance, strategic planning, and grant management and administration.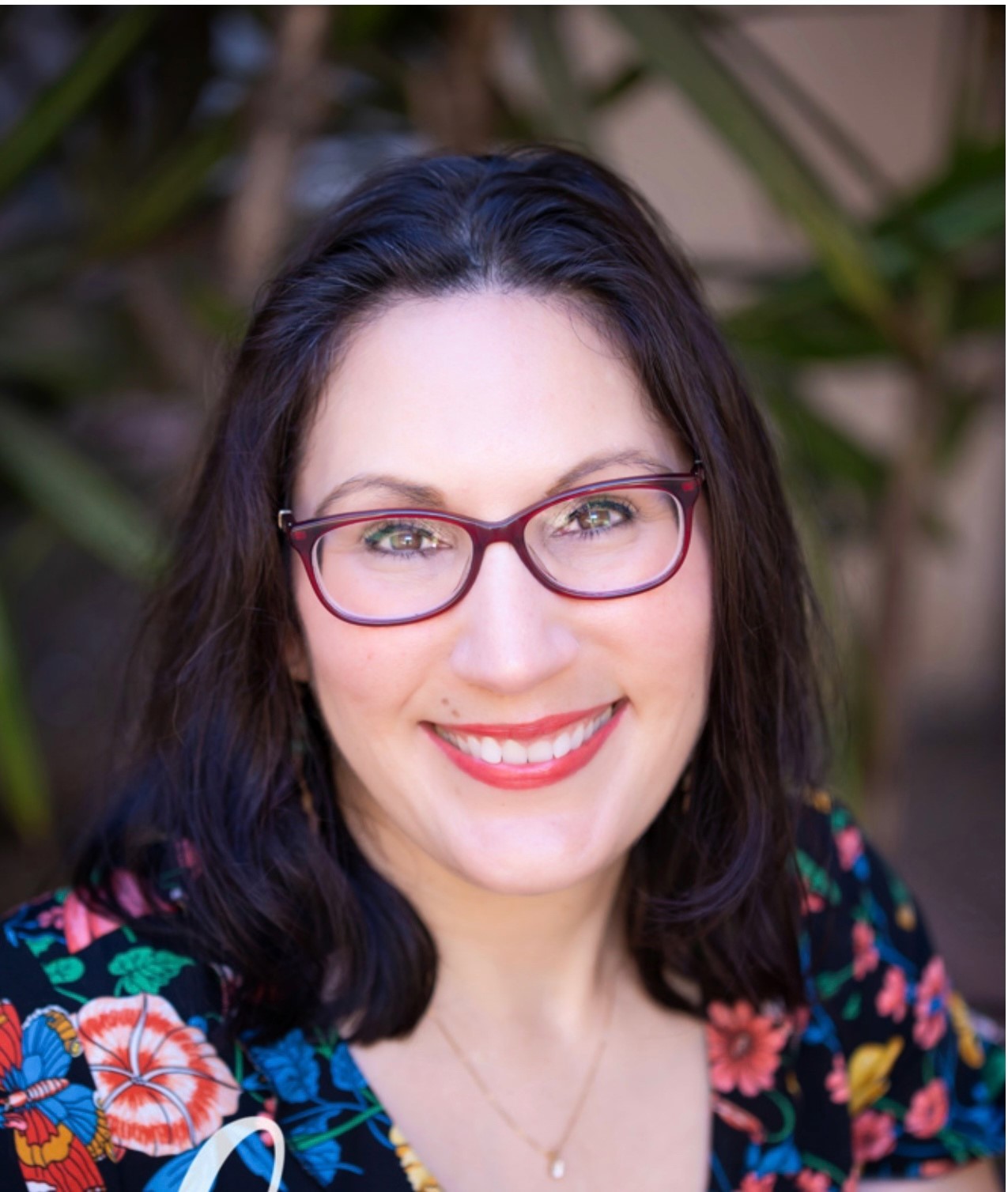 Lisa Schiavinato
Managing Director
Lisa Schiavinato is the Managing Director for the Coastal States Stewardship Foundation (CSSF). As Managing Director, Lisa oversees the administration, management, legal, contracting, and budgeting for CSSF and the Regional Ocean Partnerships that are fiscally sponsored by CSSF. Lisa brings a broad range of experience to this role. She has expertise in ocean and coastal law and policy, program management, grant management, and nonprofit leadership. Prior to joining CSSF, Lisa worked with Sea Grant programs in Louisiana, North Carolina, and California and with nonprofit organizations across Southern California. Lisa holds a B.A. in Political Science from the University of South Florida and a law degree from the University of Florida Levin College of Law. Lisa is based in California, but she was raised in the Sunshine State of Florida where her fascination for all things ocean and coastal began.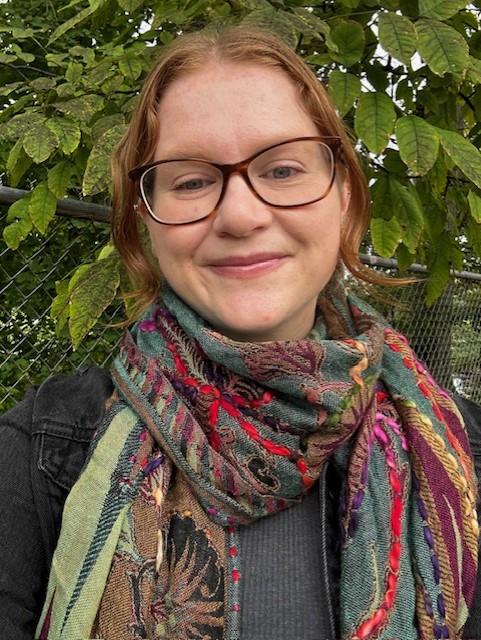 Emma Johnson
Grants Administrator
Emma Johnson is the Grants Administrator for the Coastal States Stewardship Foundation and assists the ROPs and RWSC with record keeping, preparing financial reports, budget tracking, processing invoices for payment, and ensuring reporting requirements are met. Emma earned both a B.S. in wildlife conservation and a master's in organizational leadership from Juniata College in PA. She is passionate about the environment and a certified bird nerd, with her early career being in wild bird rehabilitation. She has experience in budget management, communications strategy execution, operational support, and grant assistance. Emma is based in New Jersey, and in her free time, she enjoys hiking with her dog, Hope, binge-watching reality TV with her cockatiel, Clomp, and spending time with friends and family.